Monday, August 10th, 2009 at 1:09 am
WIN A SUITCASE FULL OF CASH AS A SPY IN NYC!
Be a sleuth in New York City in DubLi's first interactive auction and you could be a big winner.  This is an adventure you won't want to miss.  Win a suitcase with $10,000 to $25,000 CASH!  Plus stay at the Waldorf!    Be part of the Big Apple secret  mystery tour.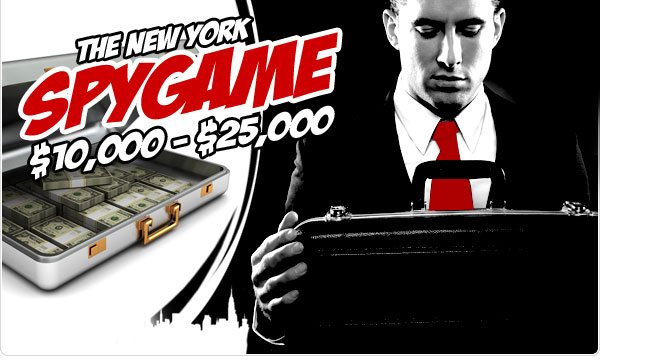 * Truly an invaluable experience: This auction has a guaranteed minimum worth of $20,000.00!
Believe us: the value could easily exceed $35,000.00! This is not a joke!
The New York SpyGame – Secret Coded Spy Suitcase contains $10,000 – $25,000 in Cash!
Take your chance and participate in our first interactive auction! Become part of an enthralling story and play the lead in our exciting spy thriller that definitely ends with a suitcase full of money for you!
You will receive two round-trip tickets to New York City and stay 3 nights at the legendary Waldorf Astoria Hotel, where a luxurious Astor suite has already been booked on your behalf. In addition you'll receive gift cards for a candlelight dinner for two at the hotel's legendary restaurant, Bull & Bear Steakhouse with one of the most historic and well-recognized bars in New York City, this celebrated steakhouse is the only restaurant on the East Coast serving the prime grade of USDA Certified Angus Beef, plus you'll receive pre-paid passes to the renown Guerlain spa where a journey of personal transformation awaits you!
 
In this compelling story, you, the secret agent is assigned a top secret mission, which involves having to solve a complex puzzle from a list of clues centered on historic New York City landmarks. Each clue contains a secret digit to a combination lock that unlocks a briefcase filled with extremely valuable information.
With this information you will be able to contact and finally team up with our undercover agent at a secret location where the undercover agent will hand over a suitcase that will reveal instant riches in the neighborhood of $10,000 to $25,000 CASH! The exact amount of money is – of course – top secret.
This message will self destruct in 10 seconds…
Good Luck
Learn more about the New York Waldorf Astoria:
The Waldorf-Astoria Hotel is a famous luxury hotel in New York City. It is run by the Hilton Hotels Cooperation and therefore offers highest standards of comfort and service, and exceptional accommodation.
With its four distinctive restaurants, three lounges, an incomparable spa area, and of course, 24-hour room service, the Waldorf-Astoria leaves nothing to be desired.
The Waldorf Hotel and the Astoria Hotel opened at the end of the 19th century, while the present building of the Waldorf-Astoria, which is located in the heart of midtown Manhattan, was opened in 1931. For over one century, the Waldorf-Astoria has been one of the world renowned "grand hotels" and has been synonymous with the elegance and grandeur of New York City.
You and a person of your choice will stay in an exclusive Astor suite with breakfast included for four amazing days (from Friday to Monday, departure in the morning).
Enjoy the spa facilities or culinary delights with the included Waldorf-Astoria SPA voucher and dinner voucher.

 The Waldorf Astoria – Astor Suite:
From 370 square feet (35 m2) of space
Queen bed
Wet Bar
High-speed Internet access for a nominal fee
Two-line speaker phones, with voice mail
Complimentary weekday delivery of USA Today
Work desk with lamp and chair
Comforter and pillows; triple sheeting
Alarm Clock Radio complete with an MP3 connection
Plush bathrobes
24-hour housekeeping
Twice-daily maid service with nightly turndown
In-Room or Zip out/Check out
Details:
two round-trip flight tickets – departure from USA, Canada, Mexico or Puerto Rico only
stay in the New York Waldorf Astoria Hotel for three nights
luxurious Astor suite
breakfast included
Guerlain spa gift card
dinner gift card
exciting SpyGame surprise during your stay
SpyGame suitcase with top secret contents worth $10,000 to $25,000
 
Three optional travel dates:
        Option A: Friday, September 25th – Monday September 28th 2009
        Option B: Friday, October 2nd – Monday October 5th 2009
        Option C: Friday, October 9th – Monday October 12th 2009
Mail this post